17th—Grade 4 Telus World of Science field trip, School Council meeting 7:00pm, babysitting provided

18th—Grade 6 Math PAT

19th—Grade 6 Science PAT

19th—20th—Grade 5 Retreat

20th—Last day canteen is open, Tim Horton's Snack Day, Grade 2 classes field trip to Crimson Lake, Grade 6 Social PAT

21st—Indigenous People's Day - activities and lunch provided, Grade 8 Farewell; Mass will be at the church at 6:00pm. A social with refreshments and a dance for the Grade 8 students and their parents will follow at the school.

24th—All school Fun Swim

25th—Kindergrad in gymnasium

26th—Elementary recognition awards at morning prayer, Water Fun day

27th—Last student day of the 2018-2019 school year, Year End Liturgy 11:00 am with Fr. Jaya, Jr. High Awards at 11:30am, Year End Barbecue provided by Obsidian Energy
Important Reminders!
* If your child is going to be late or away from school all or part of the day, please call the office at 780-542-4396 or email kerrie.lemermeyer@starcatholic.ab.ca .  Outside of regular business hours (which are 8:00 am to 4:00 pm), if you get the answering machine, please leave a message.
* For the safety of your child(ren) please do not drop him/her off before 8:20 am as there is no supervision and the doors do not open until 8:20 am.
* All students arriving after the morning bell (8:35am) or leaving school property before the dismissal bell (3:09pm), must sign in/out at the office.
* For the safety of students & staff, ALL Volunteers & Visitors MUST sign in at the office.  ALL doors other than the front door will remain locked during the school day.
* We need your help!  Classroom interruptions disrupt the flow of the lesson and make it difficult for students to re-focus on the task at hand.  The office is receiving a number of requests during the day to relay messages to students or to call students from class.  If you are dropping an item off for a student or calling to leave a message for a student, they will be held at the office until morning recess or lunch break.  Although we attempt to ensure all students receive their messages or items dropped off, there are times that students do not respond to these calls and if we receive them after the 12:30pm, we can not guarantee that the student will receive them.  Please assist us by attempting to make all arrangement with your child before he or she leaves for school in the morning. 
Only in cases of emergency, we will call into your child's class. 
We appreciate your cooperation in helping us keep interruptions to a minimum.
* Please make sure that your children are dressed according to the weather. Students are expected to play outside during our recesses. The Division's weather policy is to have students stay indoors only if the weather is minus 20 below (Celsius) including wind chill. Proper winter attire includes mittens, hat, warm coat, ski pants, and winter boots. It's also a really good idea, to pack extra clothing (such as pants, underwear, t-shirt and socks) in your child(ren)'s backpack – in case they get all wet.
* Taking holidays during the school year may result in students missing valuable learning which may result in students missing valuable learning which may have a negative effect on their academic progress.  However, we do understand that because of differing circumstances this may occur in various families.  Although our teachers are committed to helping your child progress, please understand that it is not reasonable to request that the teacher prepare detailed lessons or homework missed during your child's absence.  Students are responsible for catching up on all missed
assignments within a reasonable time frame determined by the teacher through consultation with the student and
family.
Important information for Parents/Guardians of Grade 6 students
Youth Group
2019-2020 Registration
Get important messages via SMS (Text Messages)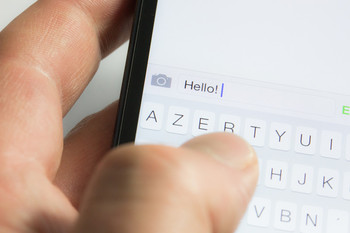 In an effort to reach you more effectively, parents can now receive important messages via SMS (text message).
Those messages include bus cancellation and status notification.
To receive Bus Status updates and important STAR Catholic notifications via text messaging, Simply text "Y" to 978338
Division News